Support Colorado's Wine and Spirit Industry
With the struggles of operation and sales during the COVID-19 pandemic, many Colorado wine and spirit producers have seen their sales decimated due to the closing of restaurants.  With that said, we are offering a terrific sale for CapRock Vodka and Gin.  Please take the time to read what I've put together regarding Jack Rabbit Hill Farms.
Jack Rabbit Hill is an innovative, certified-biodynamic farm located in western Colorado's North Fork Valley, near the town of Hotchkiss. The 70-acre diversified operation includes 20 acres of wine grapes and tree fruits, medicinal herb gardens, pasture, and cattle. We make estate wines, hand crafted spirits, and single orchard ciders.
The spirits are CapRock Gin, Vodka & Brandies, and MEll Zero Waste Vodka.
Robert Parker; The Wine Advocate Author: R.H. DREXEL – 01 Feb 2017
"The vineyards at Jack Rabbit Hill Farm are biodynamically farmed by husband-and-wife team Lance and Anna Hanson, who are also the winemakers and owners of this special estate….
I also couldn't get enough of their CapRock spirits, all organically distilled with the help of that pure, mountain-top snowy water. Make no mistake: despite their dilapidated winery sign and hard-to-find remote country location, this is a top-notch estate that merits much serious attention. The owners are serious, uber-focused and committed to creating wines and spirits that capture the magic of Colorado's high-elevation terroir."
CapRock Gin Hotchkiss, CO.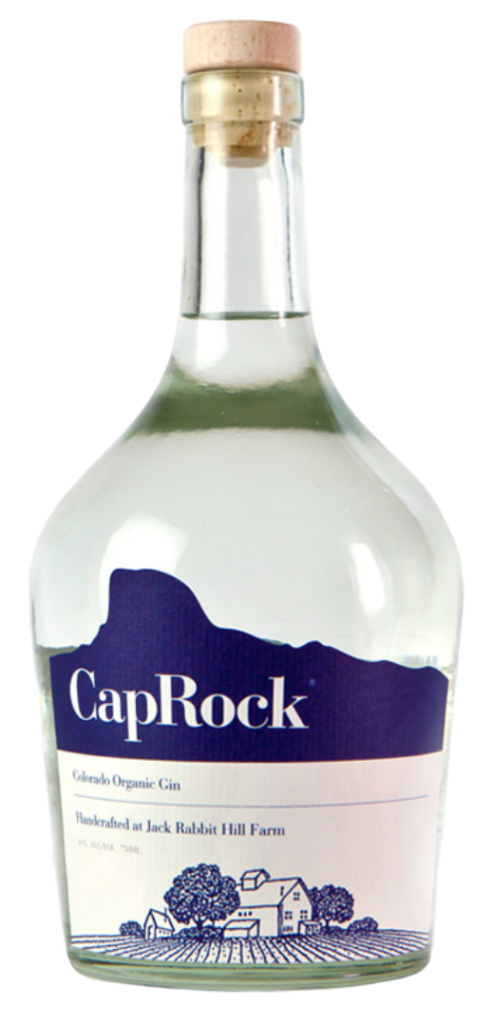 Distilled with a base of Jonathan and Braeburn apples from Ela Family Farms and Gunnison River Farms, and organic winter wheat.  The botanicals are a blend of whole fresh or dried fruits, juniper, seeds, roots and flowers including lavender, pink rosebuds and citrus to create a unique flavor in its spirit while staying true to the traditional gin notes.  Certified organic.
Regular Price $32.99
Cooper's Price $18.99
2 Bottle M&M $15.19
CapRock Vodka HotchKiss, CO

A straight vodka made with Demeter-certified biodynamic Chambourcin grapes grown at Jack Rabbit Hill Farm and Gunnison River Farms. The whole grapes are fermented spontaneously (no yeast added) and distilled twice and redistilled with certified organic Romanian winter wheat distillate. CapRock's rich mouthfeel and clean finish. the grapes are fermented and distilled whole, including skins, contributing soft fruit tannins to the texture.
Regular Price $29.99
Cooper's Price $18.99
2 Bottle M&M $15.19