The Producer:
Ardbeg has been called "as close to perfection as makes no difference," by whisky connoisseurs. Proof then, that Ardbeg truly deserves its incredible reputation. It's a whisky that's worshipped around the world. In the past ten years, six different Ardbeg expressions have won prestigious titles including World Whisky of the Year, Scotch Whisky of the Year and World's Best Single Malt.
This Whisky:  ARDBEG AN OA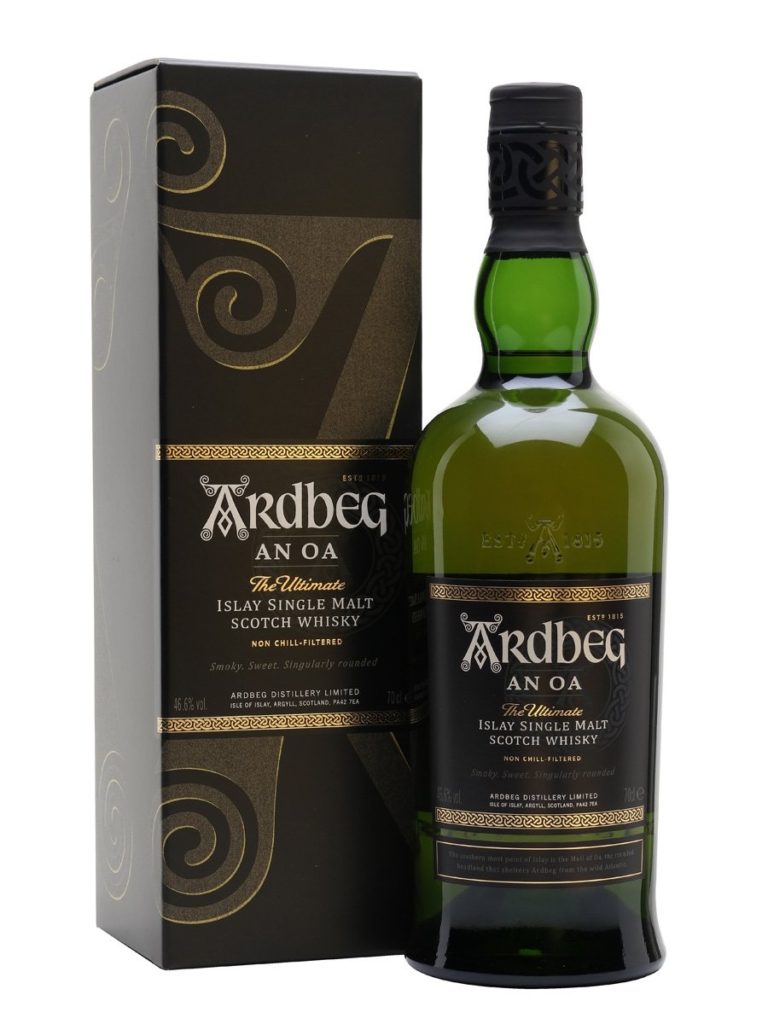 A welcome new addition to the Ultimate range. Ardbeg An Oa is singularly rounded, due in no small part to time spent in our newly established bespoke oak Gathering Vat where whiskies from several cask types – including; sweet Pedro Ximenez; spicy virgin charred oak; and intense ex-bourbon casks, amongst others – familiarise themselves with each other. The result is a dram with smoky power, mellowed by a delectable, smooth sweetness. Hallmark Ardbeg peat, dark chocolate and aniseed are wrapped in smooth, silky butterscotch, black pepper and clove, before rising to an intense crescendo of flavour.
Non chill-filtered with a strength of 46.6% ABV.
The Whisky Profile
Aroma:
Rounded and smoky – like burning Applewood – with creamy toffee, aniseed, treacle and dates. A curious suggestion of juicy fruits, such as peach and banana. With a drop of water, reminders of Ardbeg's classic fragrance – lime, pine resin, fennel, saddle soap and tar. A gentle waxiness, like fragrant candle wax, and hints of smoked herbs. An Oa gives a final subtle reminder of the sea with briny notes and seaweed but always accompanied with creaminess.
Taste:
A smooth, creamy texture leads into a huge syrupy sweetness, flavours of milk chocolate, treacle toffee, aniseed, orange and smoky tea leaves. Gentle, sweet spices (nutmeg & cinnamon), some cigar smoke, and a very unusual flavour of grilled artichokes. Wood is always present in the spirit, gently nutty and reminiscent of a carpenter's workshop. A long, sweet finish, with floral overtones, mint toffee and some gentle malty biscuit notes.
Finish:
Lingering, seductive, gentle yet intense, with flavors of aniseed, hickory and distant subtle smoke.
Learn More About Its History