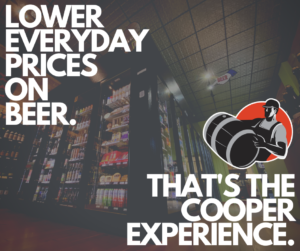 Huge Selection – Great Prices!
If you wanna talk CRAFT BEER you better come to COOPER! Why is COOPER different? Because we initiate partnerships with the most creative brewers…and these artists reward us with exclusive selections, regional allocations and…frankly, a distinctive…BLOW YOUR MIND selection that takes even the most dedicated connoisseur a rest on the "green wall" to choose the perfect brew.
Our cooler is a unique chameleon! Every week it stretches, changes, works to accommodate the newest most innovative product. COOPER is truly committed to bring the coolest, newest and best beers to the Roaring Fork Valley!
Got something we need to know about? Let COOPER'S staff know what you have in mind…we'll be glad to accommodate!
A QUICK PEEK AT SOME OF OUR COLORADO BREWS….

CASEY BREWING AND BLENDING, GLENWOOD SPRINGS

CROOKED STAVE ARTISAN BEER PROJECT, DENVER

ODELL BREWING, FORT COLLING

ROARING FORK BREWERY, CARBONDALE

SKA BREWING, DURANGO

RIVER NORTH BREWERY, DENVER

ODD13 BREWING, LAFAYETTE                      

  …JUST TO NAME A FEW!!!

WE HAVE TOO MANY GREAT BREWS TO PUT INTO PRINT!!!

2014, 2015, & 2016 LOCALS' CHOICE BEST CRAFT BEER SELECTION

A VARIED COLLECTION OF SOURS, CRAFT BOMBERS, AND LARGE FORMATS…
VAST SELECTION OF 6PKS AND LOCAL BREWS
HARD CIDERS, IMPORTS, AND SPECIAL REQUESTS AS WELL…JUST ASK!!!

WE DON'T HAVE IT? YOU WANT? LET US KNOW!!! Our cooler is an ever-changing vehicle for great taste…each week our staff adds new varieties for you to experience…visit us, or call to check out what's available!!!