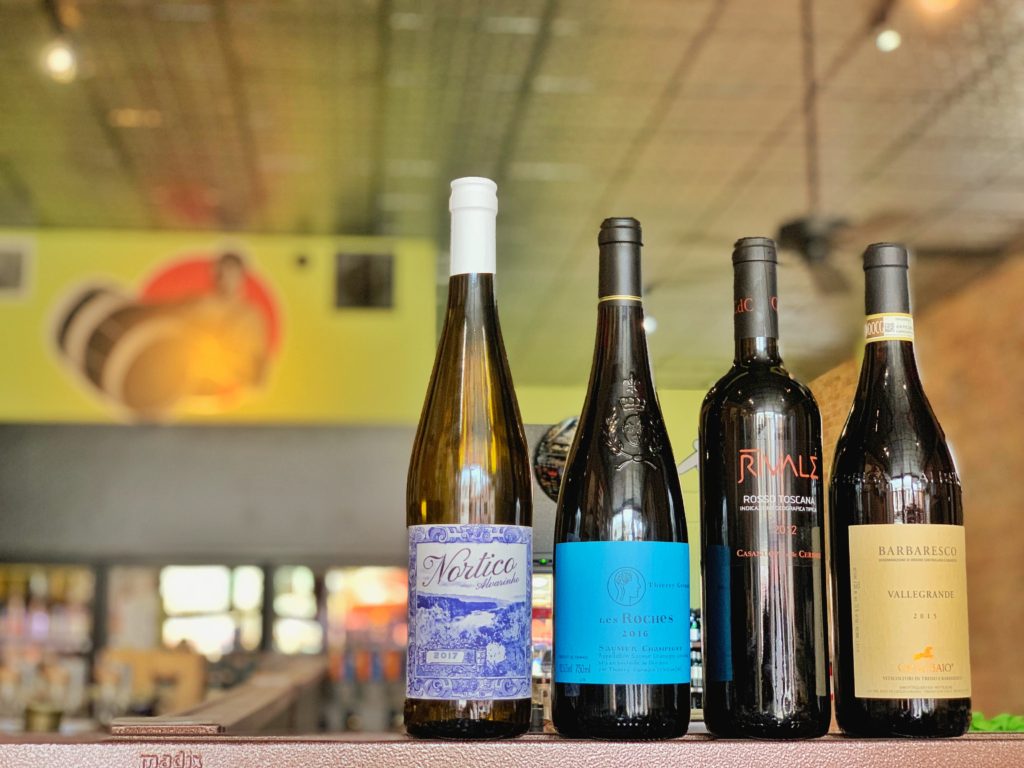 1.Nortico Alvarinho – Ask anyone for the best Alvarinho in Portugal and people will point to the extreme north to the sub-region of Moncao and Melgao, right on the border with Spain. Nortico Alvarinho is a superb example of the grapes hallmarks: fresh citrus, peach and tropical fruit aromas paired with clean, juicy fruit and vibrant minerality. Nortico is produced on the south bank of the Minho River in plots so small they are called "jardins", or gardens in Portuguese. Soils here are granite and schist and although there is plenty of rainfall (2,000 ml annually), the inland area is a little warmer than the coastal plantings, allowing for perfect maturation. 100% Alvarinho. Sustainably grown vines. This is a young, fresh white wine with the characteristic bright acidity and aromas of peach and grapefruit. Creamy citrus oil, lime and yellow apple notes are nicely spiced and detailed with saline mineral and floral underpinnings through the long finish. At only 12.5 % alcohol, Nortico is light and delicate, lovely as a "porch-sipping wine" to drink on its own. Have it simply with corn bread and butter like country folks do in Portugal. Also a terrific seafood wine, particularly with salty, fattier dishes like fish tacos or broiled oysters.
Regular $14.99, Cooper's Price $12.99
---
2. Thierry Germain "Les Roches" Samur Champigny Cab Franc — Thierry's domaine, Roches Neuves, whose vineyards are planted in the Saumur (Blanc) and Saumur-Champigny (Rouge) appellations, has rightfully become one of the greatest examples of high achievement in biodynamic vine growing in France. Thierry relocated to the Loire from Bordeaux in the early 1990s, and soon fell under the influence of his spiritual father, Charly Foucault of Clos Rougeard. Thierry would ultimately convert his entire domaine to biodynamic viticulture, which was the equivalent of his wine epiphany. Listening and observing his plants, allowing them to guide him, revolutionized his way of thinking. Thierry harvests on the relatively early side to preserve fresh, vibrant fruit. His goal is to produce Cabernet with purity, finesse, and drinkability, while avoiding rusticity, vegetal character, and hard tannins. His incredibly diverse terroirs are translated with utter clarity and precision. 100% de-stemmed, and fermentation in stainless steel tank for 8 to 10 days. Light pump-overs during fermentation—meant to infuse the grapes not extract them. Aged in stainless steel and wood tanks on fine lees, without sulfur, for 3 to 4 months. Thierry's style of Cabernet Franc emphasizes soaring red fruit aromatics, plush and silky textures, and racy acidity. Sounds pretty good, right? It isn't your grandmother's rustic, furry, tannic, bretty Cab Franc, that's for sure. Biodynamic agriculture, no trimming of the vine shoots, early picking, and aging in large barrels are a few of his keys to success. Les Roches is Thierry's entry-level Cab Franc for barbecues and general everyday gladness.
Regular $28.99, Cooper's Price $25.99
---
3. Rivale Rosso Toscana – This is a well-situated estate on the 'north slope' of the Montalcino hill, located just below the village of Montalcino. Casanuova delle Cerbaie is comprised of 15 hectares, 10 of which are under vine. The vineyards are located at approximately 300 metres above sea level and grow on the prestigious hill of Montesoli. The estate's sure-handed enologist, Paolo Vagaggini (a Montalcino fixture who's worked with a host of top estates, including Fuligni, Il Palazzone, and Biondi-Santi) favors a woodsy, savory style of Sangiovese aged in larger Slavonian oak barrels crafted by the Austrian cooperage Stockinger. This Sangiovese based blend has very appealing smokey herbal notes with subtle cherry tones. Well balanced silky tannins, and nice texture make this wine great food companion. 50% Sangiovese, 30% Merlot, 10% Colorino, 10% Petit Verdot.
Cooper's Price $18.99
---
4. Ca del Baio Vallegrande Barbaresco – Valgrande or Vallegrande is a cru in the commune of Treiso. A small domaine with deep roots in Piemonte. The Grasso family has been making wine in Barbaresco since the 1880's. Giulio and Luciana Grasso, fourth generation wine makers, are now running the family business with the help of their daughters Paola, Valentina and Federica. They maintain their traditional values with particular attention to the vines, especially during pruning, crucial for yield control and fruit quality. The use of herbicides and fertilizers in the vineyards was banned long ago and only natural yeasts are used for fermentation. Ca' del Baio has a number of Nebbiolo vineyards on the Vallegrande cru, covering an area of 3 hectares in all. They face west, and produce the estate's Barbaresco DOCG Valgrande. A traditional Barbaresco, grown on vineyard sites planted in 1967. Is aged – as in the past – only in large casks. It represents the elegance of Barbaresco at its very best, without flaunting the muscle of Nebbiolo. Traditional, stem-free, on-the-skins fermentation, for 7 to 15 days in steel at a controlled temperature. The wine matures for 24 months in casks made of Slavonian Oak, and is then cellared for 6 months in the bottle prior to release. Garnet red in the glass, intense aromas with powerful, deep fruit, dried flowers, new leather and underbrush. The firm palate offers dried black cherry, raspberry jam and licorice flavors alongside taut, fine-grained tannins and firm acidity.
Regular $44.99 Cooper's Price $36.99