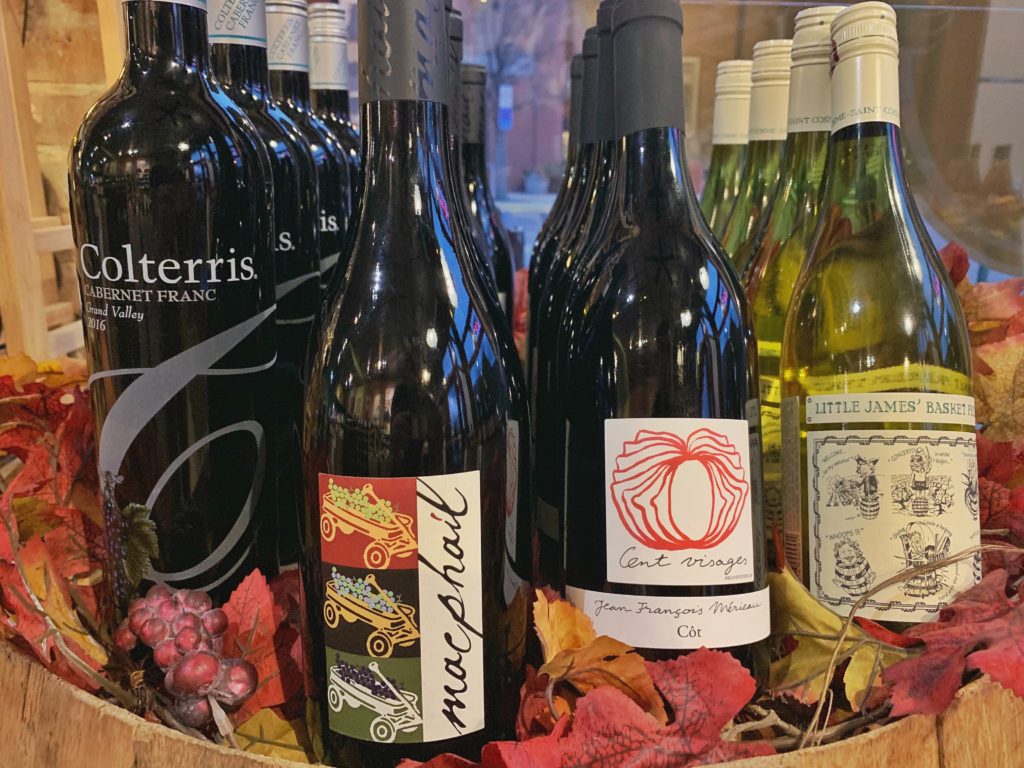 St Cosme Little James Basket White – Château de Saint Cosme is the leading estate of  Gigondas and produces the benchmark wines of the appellation. The property has been in the hands of the Barruol family since 1570. Louis Barruol took over from his father in 1992 making a dramatic shift to quality and converting to biodynamics in 2010. The estate lies in the heart of Gigondas where 15 hectares of vineyard grow in the shade of the Dentelles de Montmirail mountain. In addition to the estate-grown wines labeled "Château de Saint Cosme," Louis Barruol buys grapes from contracted growers, labeling these "négociant" wines simply as "Saint Cosme." Saint Cosme Little James' Basket Press Blanc carries the Vin de Pays d'Oc IGP and is an unconventional blend of Sauvignon Blanc and Viognier. Viognier and Sauvignon Blanc are traditionally grown in different regions but grow side by side in the Languedoc and Louis Barruol believes them to be complementary. The wine is vinified in stainless steel tanks.
Sauvignon Blanc brings acidity to the blend while Viognier provides fleshiness and attractive notes of stone fruit and flowers. Blending the two varieties results in an aromatic and fresh-tasting wine with aromas and flavors of peach blossoms, apricot, grapefruit, lychee fruit, and mangos and fennel. Cooper's Price $14.99
 
Jean François Mérieau Cent Visages Côt (Malbec) – The estate spreads over 35 hectares across the hillsides and on the left bank of the Cher River and benefit for the greater part from a south-southeast orientation. These rich and complex soils allow the production of a range of wines that are varied and rich in color. Jean-François Mérieau took over the family estate in 2000. Since then, he has committed himself to rediscovering the terroir of the Loir-et-Cher, working the soils, plowing, cutting heavily, and harvesting by hand. Cent Visages, meaning '100 faces' is the name given to this Côt, sourced from a single, 2.5 hectare 50-year-old vineyard in Saint Julien de Chedon, grown by Jean-François. Destemmed, then hand sorted on a sorting table before crushing and put into a vat. Hand plunging and delestage, followed by a long maceration (between 5 and 6 weeks) with natural yeasts. Maturation in buried concrete tanks with micro-oxidation then aged in neutral French oak for 24 months.
Incredibly concentrated and rustic, in a good way, the Cent Visages has a floral edge, with a core of currant, cherry and plum fruit. it shows a side of Malbec that's quite different than the fruity, oaky ones from Argentina that most of us are familiar with. This is such a departure from the modern style: it's lifted and fragrant, with rose petals and fresh strawberries drifting from the glass. There's real elegance and a mouth-coating texture, while the finish carries hints of stone. Cooper's Price $18.99 
MacPhail Sundawg Ridge Vinyard Pinot Noir – At 280 feet elevation, among rolling hills, old apple orchards and chestnut groves, the Sundawg Ridge Vineyard sits above the fog many mornings. This 6.9-acre, sustainably farmed vineyard was planted by the Kensler Family in 1999 and benefits from exceptional exposure, temperate microclimate and mineral rich Goldridge soils. 100% de-stemmed, 5 to 6-day cold soak, native and inoculated fermentation, native malolactic fermentation in barrel, battonage weekly for 3 months, and aged 16 months on lees in French oak barrels, 35% new. Bottled unfined and lightly filtered. · Moderate reddish purple color in the glass. The aromas pick up interest and intensity over time in the glass Each and every vintage, the winemaker depends on this small Green Valley vineyard on a rolling hillside to declare itself a Pinot apart from most other expressions he's fortunate to make. The powerful drumline is always the same: earthy, rich and dark from the Calera clone with spicy notes from the Pommard clone. Pomegranate leads the flavor explosion, backed by wild cherry. Toasty oak spice trends exotic, but doesn't overpower the dominant red fruit. Bigger, richer, more opulent than most, it takes a  bit longer to evolve and show itself, but it's always worth the wait. Cooper's Price $32.99
Colterris 2016 Cabernet Franc – The name COLTERRIS was derived by combining a three letter abbreviation of Colorado "Col" with the Latin word "terris" meaning from the land. "COLTERRIS – from the Colorado land". All COLTERRIS Wines are produced from 100% Colorado grapes grown in our estate vineyards in the Grand Valley AVA.
COLTERRIS is located in Palisade on Colorado's beautiful and picturesque Western Slope. 50% Riverside Vineyard Cabernet Franc, 44% Katie's Vineyard Cabernet Franc, 3% Riverside Vineyard Merlot, and 3% Riverside Cabernet Sauvignon. 2016 represents our first vintage incorporating fruit from Riverside Vineyard into our Cab Franc. By harvesting, fermenting and aging each vineyard block separately, we can refine our final blend to yield the best wine possible. In this case, Riverside is a strong contributor to the blueberry and spice components where Katie's Vineyard showed more floral character and a more elegant palate profile.
Generously fruit forward in the glass, this Cabernet Franc starts with notes of dark cherry, blueberry and ripe plum followed by a floral perfume and just a touch of cracked pepper and toasty oak. Like the aroma, this wine opens on the palate with more dark cherry and strawberry jam. The balance of acidity and smooth tannin give an intense mid-palate before drawing to a smooth finish with just a touch of oak. Cooper's Price $22.99