AWARD WINNING WHISKEY TASTING!
Join us as we taste:
Bushmill's Red Bush  
Among the first of the Irish whiskeys to be imported to the US, American drinkers fond of whiskey and other brown spirits have enjoyed the range of characterful smooth spirits from Bushmills since the 1800s.  Red Bush is a smooth blend of triple distilled Irish single malt and fine Irish grain whiskey.  On the nose, the amber spirit offers intense aromas of toasted oak and vanilla.  The palate is medium bodied with hints of caramel and nutty flavors.  
Cooper's Price $19.98
Old Forester 86 Proof
Created in 1870, Old Forester is the only bourbon continuously distilled and marketed by the founding family before, during and after Prohibition.  At 86 proof, this Old Forester delivers a genuine bourbon experience, with rich, full flavor and a smooth character that is ideal for sipping neat, on the rocks, with a splash of water or in a classic cocktail.  The aroma is sharp and sweet, with a strong floral character that swirls with hints of mint, rich tobacco leaf and vanilla.  On the palate, it's sharp at first, but softens quickly, with hints of oak, sweet corn and rye character.  Spicy, with soft vanilla and light orange notes.
Cooper's Price $26.99
Calumet Farm Single Rack Black 10yr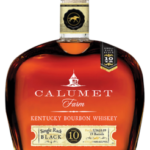 Calumet Farm Bourbon Whiskey is Kentucky-aged to perfection for over 10 years bottled from hand selected barrels on a single rack (19 barrels) in the rick house.  Calumet has a customary mash bill of corn, rye and malted barley that offers a sweet, flawless finish, glowing with butterscotch and vanilla.  A harmonious perfection of wood and time, this whiskey brims with citrus and toasty aromas followed by apple skin and baking spice.  That palate shows complex flavors of soft toasted oak, brown sugar and a touch of spice.  Each bottle boasts a hand-written, custom label with the specific rack location and number of barrels in that bottling.
Cooper's Special Price $49.98
 291 Colorado Rye Single Barrel
Kevin's Notes:  I first met Michael Myers, Owner and Distiller, a short time after we opened our store.  His whiskies had just reached the ages of 2-3 years old and he was very enthusiastic to share them.  We related to one another quickly as his passion for making the best possible whiskey was very evident and the spirit was certainly in the bottle.  Since our first encounter and more recently, Michael's whiskies have earned numerous competitive awards from internationally recognized whiskey festivals, including most recently, "best rye in show" at the 2018 World Whiskey Awards! (2nd time for this prestigious honor)
Cooper's Price $69.98