Walter Scott Le Combe Willamette Valley, Chardonnay 2015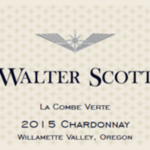 The Spring of 2016, Sharon and I went to Oregon for some R&R with hope of seeing some wineries.  We fell in love with Walter Scott wines!  Walter Scott Wines was started in 2008 by partners Ken Pahlow and Erica Landon after years of living, studying and working within Burgundy, France and the Oregon wine industry. Ken had dreams of starting his own label, but had not truly achieved his goal until Erica helped him take the leap… In the spring of that year the two emptied their meager retirement accounts and used the funds to start the winery.
The Willamette Valley Chardonnay is a blend of Vineyards all fermented and aged in oak for 10 months with 100% native yeast fermentation and full malolactic conversion. The wine is lightly fined and filtered prior to bottling to lift aromatics and polish the final wine. The blend represents a lighter touch, seeing about 20% new wood during barrel aging. The wine is a brighter style of chardonnay with lots of citrus notes, green apple and a mineral note on the palate.  Only 400 cs made ..
Cooper's Special Price $25.99
Jezebel Oregon Pinot Noir 2016
Jezebel is the easygoing sister to Willful Wine Co. The Jezebel wines are produced with the intent of providing wine that is well-balanced and interesting and designed for immediate consumption.
Fruit-forward and well balanced: enjoyable with a variety of foods, or in a glass all by itself. 2016 was a well-balanced vintage. The wine has bright red fruit flavors, supple texture and an easy to drink appeal. It's very versatile with food and pairs especially well with roast chicken, turkey, and pork.
Kevin's Notes:  After searching long and hard for a terrific bottle of Pinot Noir for $20 we finally found Jezebel Oregon This is one of the Pinot Noir's we will be featuring for the Holidays!  This Pinot Noir will hold up on its own and with food.
Cooper's Price $19.99
 Pazzoz de Eguren Tempranillo 2012  
From ewinedeal "2012 Pazos de Eguren Tempranillo Vino De La Tierra status (equal to Vin de Pays in France), this wine brings a lot Aromas of minerals, red cherries, red currants, blueberries earth and tobacco. Blueberry and currants come through on the palate with a backbone of leather and earth. Sturdy, smooth tannins support the fruit and earth notes with a core of acidity that brightens everything up. The fruit notes expand on the mid-palate and flow into the finish joined by a healthy dose of minerals and earth notes with red currants lingering. This is a great food wine that I would match up with stews, pizza, hamburgers or grilled meats. 100 % Tempranillo."
Kevin's Notes:  Last week, a new wholesaler came by to show me his lineup of Spanish wines and we selected four different wines as they represent true old world Spanish character.  This is a terrific example of upfront fruit with a touch minerality.  When you consider the type of food we enjoy during the holidays, Tempranillo is a terrific wine choice.
Cooper's Special Price $11.99
 Cascina del Pino
Domizio Cavazza was the director of the Royal Enological School in Alba from 1888 – 1913. When he arrived he surprised everyone by purchasing land and making his home in Barbaresco. The noble families expected he would reside near the more famous estates in Barolo.
He purchased the Ovello cascina (farmhouse and land) and he began making wine. For the first time the wine made from the Nebbiolo vineyards surrounding the village was called Barbaresco.
Cavazza celebrated the birth of his first son by planting what became a well-known landmark in the region, a large Mediterranean pine tree. The estate began to be known as the 'cascina del pino' or winery of the pine.  Renato Vacca's great grandfather purchased the vineyards after Sig. Cavazza prematurely died and his family moved to Torino. The Vacca family has been here ever since.
This wine has all of the fruit and spicy characteristics of the traditional Barbaresco's, but it is meant to be consumed young. Complex and smooth with good structure of fruit and tannins.
Kevin's Notes:  After tasting about 15 Nebbiolo's I found this stunning wine for the Holiday's.  Nebbiolo can work with both roasted turkey, and any beef meats such as a prime rib roast.
You're going to love this!  
Cooper's Inventory Reduction Price $21.99