Marchese Guadagni Orvieto Classico Superiore 2015
The Torrigiani family entered the "world of wine" in 1280 when the ancestor Ciardo, arrived in Florence, to be part of Arte de'Vinattieri, opening a shop to sell wine and starting a business in Italy which would extend later in all over Europe. The family opened up trade "desks" in Nuremberg, Germany where they made their fortune which would be reinvested over the centuries back into the lands of their origin: Tuscany.
This beautiful inexpensive Italian White is a blend: Trebbiano 50%, Grechetto 30%, Chardonnay 10%, Sauvignon Blanc 10%
On the nose: Fruit forward with aromas of green apple, pear, and a hint of hibiscus.
On the palate: Medium bodied with flavors of apple, pear, and a slight effervescence. This wine is refreshing with a smooth balance between acidity and fruity notes.
Pairings: Vegetable soup, pasta dishes, seafood, shellfish, or just sipping on its own.
Cooper's Price $10.99    
Mix and Match 3 Bottle Price $9.89
Owen Roe Crawford-Beck Vyd Willamette Pinot Gris 2016
This ever-popular and always highly anticipated Pinot Gris is back! Coming from the record breaking, HOT 2016 vintage, we are happy to present our Crawford-Beck Gris fans with a textural, opulent and mouthwatering Pinot Gris. This stainless steel fermented Pinot Gris was sourced from 20 year old vines, situated in the meticulously farmed Crawford-Beck Vineyard of the Eola-Amity Hills
Flavors of orange peel, pineapple and lemon cream are nicely balanced with bright acidity and a round mouthfeel that lingers into a refreshingly long finish, perfect to pair with fresh white fish, creamy mushroom risotto or a grilled root vegetable salad. Just 375 cases were crafted and based on previous vintages, this will not last long! Grab some now and enjoy before it's gone.
Cooper's Price $19.99
Mix and Match 3 Bottle Price $17.99
A Tribute to Grace Grenache Santa Barbara County 2015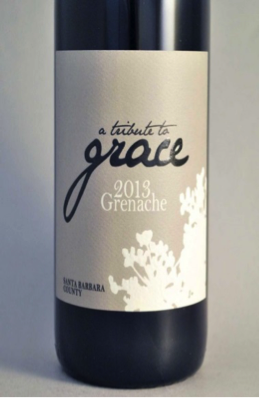 A Tribute To Grace Wine Company is dedicated to crafting authentic expressions of Grenache. All wines are single-vineyard sourced to maintain authenticity, and remain 100% Grenache.
Kevin's Notes: Two weeks ago, Sharon and I had the extreme pleasure of meeting Angela Osborne, the winemaker and owner of "A Tribute to Grace", and it was incredible. We spent well over an hour enjoying each other's company while tasting four amazing Grenache wines, three of which I bought for our store. Rarely… do you find a winemaker so committed and dedicated to making the greatest of only ONE grape variety except for maybe Pinot Noir. Never in my 30 years of tasting Grenache have I experienced such joy and enthusiasm. Angela's wines are a true expression of her to life, family and winemaking.
Below is brief autobiography found on Angela's website:
"I am a New Zealand born winemaker who moved to California in 2006 with the dream of making Grenache. In the land from which I stem, the climate is too cool to ripen this sun-loving beauty. And so began my search: northern Spain, southern France, southern Australia, California…
Abundant sunshine and entrepreneurial spirit led me to the latter, and in 2007 I sourced my first Grenache fruit from the Santa Barbara Highlands Vineyard. Nestled high above the Pacific Ocean and 33 miles inland, this high-desert vineyard provided the perfect balance of heat and light I sought.
I chose to name my label after two of my favorite things: my Grandmother Grace, and my most beloved attribute."
Cooper's Price $29.99  
Mix and Match 3 Bottle Price $26.99
Paccamora Nero d'Avola, Siciliy 2015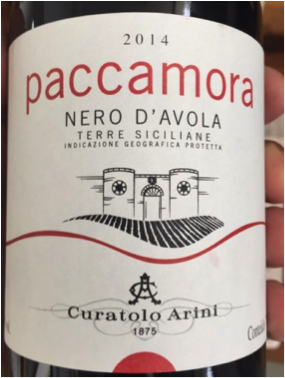 Viticultural history in Sicily is like no other wine region in the world. The Carthaginians were the first to plant vineyards here in 397BC. Today these vineyards are owned by Curatolo Arini in Marsala. Vito Curatolo Arini built the family's first winery in 1875 with a dream to make great Marsala wine and build markets around the world.. Through the generations the family grew the winery and today they are the longest standing family owned Marsala producer. As the world's demand for Marsala diminished in the 20th century they began to develop the family's vineyard holdings in Sicily to make still wines.
Kevin's Notes: Nero d'Avalo from Sicily is some of the most enjoyable red wines to drink but you have be very selective as many can come across as over ripe with terribly high alcohol but his little guy! Its bright deep color makes you want to wear it and why not with the aromas of spice and dark berry fruit it's a homerun for red wine at this price.
This is the perfect spring and summer red for the BBQ which we all where as well.
Cooper's Price $12.99
Mix and Match 3 Bottle Price: $11.69