Wine Tasting – July 1st and 2nd
Join us this Friday and Saturday for our weekly tasting!
Pomelo Sauvignon Blanc
Primarily sourced from Lake County, Pomelo's characteristic grapefruit profile is consistently found in our blocks situated on the Kelseyville bench. With an elevation of nearly 1300', the growing season is long, with ample hours of sunshine and great temperature fluctuations through the days make for explosive flavors in Pomelo.
Winemaking Notes: 100% Sauvignon Blanc. Fermented in all stainless steel tanks; extremely long and cold ferment allows for the fragrant and big fruit flavors to be appreciated. Tasting Notes: A mouth-watering, vivid style; this wine explodes with delicious flavors of passion fruit, guava, quince, lime peel; with an intensely grapefruit nose. Great wine made by Randy Mason from Mason winery.
Regular $12.99
Cooper's Price $10.99 
Domaine de Fondrèche, Côtes du Ventoux L'Instant Rosé 2015
Owned by Sébastien Vincenti who produces organic wines in Ventoux. Fondrèche is one of the best run if not the finest estate in the Ventoux. Shrewd consumers have been stocking up on these wines for a number of years as they represent terrific values. They all exhibit beautifully pure fruit infused with plenty of Provencal character. According to Robert Parker "This is the superstar estate of the Côtes du Ventoux". Sebastien is currently working towards being totally biodynamic. Sebastien works organically and is currently in the process of converting the Domaine to being totally biodynamic. Even the sheep manure he uses as fertilizer comes from organically reared sheep. Both in the vineyard and in the cellar everything is carried out according to the lunar calendar.
This beautiful rose is a blend of Cinsault, Grenache, and Syrah.
Regular Price $17.99
Cooper's Price $14.99
Chateau Tronquoy-Lalande St. Estephe, Bordeaux 2006
Chateau Tronquoy Lalande takes its name fittingly from the family that owned the chateau in its formative years, the Tronquoy de Lalande family. After they sold the estate in 1859. In 2006, Chateau Tronquoy Lalande was purchased by the Bouygues brothers from the Casteja family. The Bouygues brothers earned their fortune in the telecommunications industry. For the Bouygues family, it was the perfect addition to their portfolio as they already owned the famed Second Growth Chateau Montrose also located in St. Estephe. Shortly after Chateau Tronquoy Lalande was purchased they brought in one of the more popular and revered figures in Bordeaux out of retirement to manage Chateau Tronquoy Lalande, Jean Bernard Delmas. Delmas was director of the 1st Growth Chateau Haut Brion for decades. The elder Jean Bernard Delmas is in charge of both Chateau Tronquoy Lalande and Chateau Montrose.
With a total of 18 planted hectares (44 acres), the vineyard is planted to a density of 9,000 vines per hectare. The vines are on average, close to 25 years of age.
Robert Parker's Review – "A blend of 59% Merlot, 29% Cabernet and 12% Petit Verdot, the 2006 may be the finest wine I have tasted from this estate. It exhibits a dark ruby/purple color, sweet red and black currant notes intermixed with notions of damp earth, forest floor and roasted herbs, medium body, and an elegant, sensual, sexy personality. A real sleeper of the vintage."
Regular Price $42.99
Cooper's Price $34.99
Elio Altare Brabera d'Alba 2014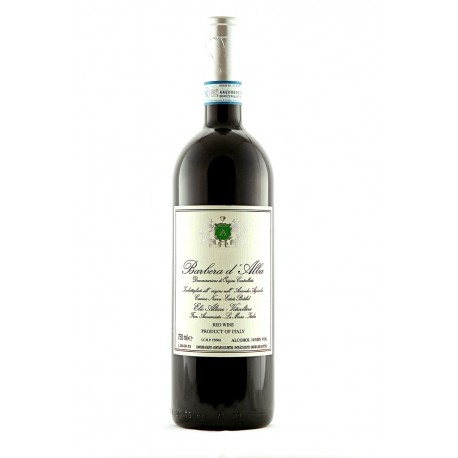 Elio Altare is one of Italy's greatest winemakers; his wines have come to define the changes that have taken place in Barolo over the last 30 years. He inspired a generation of younger producers to commit quality in the vineyards and bottle their own estates wines vs. buying and making non-estate grapes and wines. The changes Elio championed in the 70's: green harvesting, organic farming, and shorter macerations are commonplace today and have the Piedmont region a more rich, diverse and higher quality producing region.
Vinification: Maceration on the skins for approx. 3 to 4 days in rotary fermenters with temperature control, short passage in used French barrique for 5 months
Color: ruby red with violet reflections
Nose: Aromas of violets and black cherry.
Taste: warm, full bodied, with the right acidity, nice long taste of dark red fruits
Serving suggestion: antipasto, pasta course, fatty cheese, roasted fowl, and plenty of red meats
Interesting Note: Elio Altare was disinherited by his father. Originally, most of the property was planted to orchards, but Elio saw a greater opportunity with vineyards and winemaking as a means to remove the family from poverty. Elio began tearing out the orchards with his chainsaw and this did not sit well with his father. Over time, Elio has bought all of the family's property from his siblings. The winery is only 25 acres!
Regular $27.99
Cooper's Price $22.99