Tasting Notes May 3rd, 2019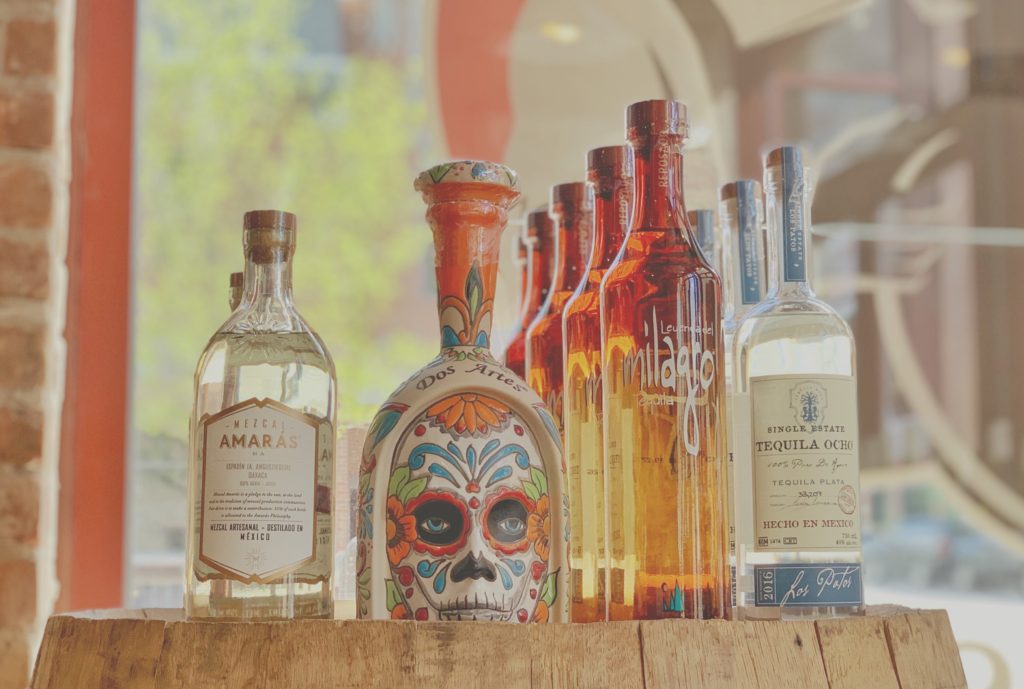 Education:
Tequila vs Mezcal. One thing to remember, all Tequila is Mezcal, but not all Mezcal is Tequila.
Mezcal is a term that applies to any spirit distilled from agave.
"Tequila" is a reference to a specific town within the Mexican state of Jalisco. Production within this region is regulated by a governing body, much like wine in France or Italy, or whiskey in Scotland. It must be produced within the state of Jalisco (and a few municipalities in the nearby states of Guanajuato, Michoacán, Nayarit, and Tamaulipas).
Tequila is (by law) the product of just one agave varietal—Blue Weber, while Mezcal can be made from upwards of 30 varietals of agave—though the majority is made with agave Espadin.
Mezcal was, until recently, considered a poor man's beverage. It wasn't until 1994, when the government decided to regulate production of mezcal, limiting the area where it could be produced to regions in the states of Oaxaca, Guerrero, Durango, San Luis Potosí and Zacatecas.
In Mezcal production, the agave hears are roasted and smoked in earthen pits before pressing, and distillation, giving it the characteristic smokey flavor.
Mezcal and tequila age designations: Joven/Blanco/Plata/Silver (0-2 months); Reposado or "rested" (2 months-1 year); Añejo or "old" (1-3 years); Extra Añejo (newer category, 3+ years)
Tequila Ocho Plata – Cooper's Price $44.98
Currently the only single estate distillery to produce vintage-designated tequila. What does that mean? It means every bottle is designated with its vintage year and the specific agave field harvested. Each vintage produces tequila with aroma, flavor and character unique to that year and agave field. Tequila Ocho is sustainably managed and produced using long standing, respected production methods.
Profile: Classic tequila aroma is evident as soon as the bottle is opened. There is sweet grass, creamy vanilla, and fresh roundness on the nose. There is very little burn to this tequila. Definite warmth and good, weighty mouthfeel. The flavor is light on the tongue with vanilla creaminess in the background. Very flavorful.
Milagro Reposado – Cooper's Price $19.98
Milagro "Miracle" uses agave that are an average of eight to twelve years old for their Tequila (others use agave as young as three years old). A more mature agave develops a better flavor and terroir, due to the longer growing period according to a number of experts. Milagro also uses a number of more traditional steps than many others – again, slower, more expensive processes, but they pay off in the long run.
Profile: Citrus, savory herbs, brine/alkali with a nice mineral feel, and grassy notes. Woody oak and pepper are nicely present with hints of vanilla as well. Finish is medium-long, with lingering dry herbs, minerality, and a touch of citrus.
Dos Artes Extra Anejo, Limited Edition Sugar Skull – Cooper's Price $179.99
Dos Artes literally translates to "two arts"; the first being the Tequila itself, and the second, obviously being the handmade bottles. These gorgeous bottles each take around 72 hours to complete. Starting with forming and baking the clay bottle, then hand-painting and back into the oven, then glazing and one last firing in the oven. This specific bottle is a limited edition of their Extra Añejo offering. The
Profile: Strong toasted oak, cooked agave, and grilled banana. Dark fruit, and marzipan, with a slight salinity, and huge notes of rich caramel sauce and vanilla bean from the extensive barrel aging. This is a truly special blend of 2-5 year old tequilas!
Mezcal Amarás Espadín – Cooper's Price $44.99
The brand, which translates to "you will love," was founded by Jorge Rodríguez-Cano and Santiago Suárez Cordova. It's a collaboration between 5 mezcaleros in the village of San Juan del Río in Oaxaca. It's made from 100% Espadín grown in the surrounding hills near the distillery that is roasted for 5 days in conical ovens over Holm Oak logs. It's made the traditional way with horse-drawn mills for grinding, open pine containers for fermenting and copper pot distilling. Both the agave and the logs used to roast, are used sustainably, with more being replanted for every one taken.
Profile: This is an approachable, and a particularly fruity mezcal that has some interesting mushroomy and pinecone notes in the background. Hot cinnamon spice warms the path to backwoods campfire smoke. Finishes smooth, with a little bit of sweetness to round it out.