Tequila Ocho
Tequila Ocho sources its agaves from "single estates" – single parcels of land with unique microclimates. Access to multiple estates at varying altitudes allows Ocho to showcase different nose and favor characteristics through each vintage. The brand represents the unveiling of "terroir" as a genuine product concept in tequila and confirms that it exists as much in agave as it does in grapes. This concept is centuries old in wine, but has not been seriously explored in spirits. Whereas most spirits focus their distillation on delivering "consistency of character", Ocho is original in its delivery of "complexity of character" through each vintage.
Tequila Ocho is made by Felipe Camarena, a third generation Tequilero, in partnership with Tomas Estes, the "Ambassador of Tequila to the European Union." This is a potent combination that delivers heritage and tradition coupled with innovation. Felipe and Tomas produce a tequila that is made slowly in the old‐fashioned way.
Ocho is the first tequila to designate both the year it was produced and the precise field from which the agave was sourced. Each is noted on the front label to confirm their authenticity.
Tequila Ocho Plata Rancho "Puerta del Aire" 2016 – The Puerta del Aire Ranch is about 3 kms northeast from La Alteña. The land is a gentle slope of red soil oriented and is about 6,000 ft above sea level. The agave was 7 years old, with an average weight of 85 pounds some 220 pounds and 26% sugar content.
*Tequila Ocho Plata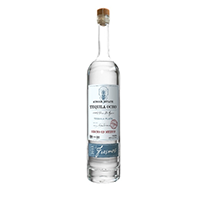 Aroma – menthol, lily, banana skin, cooking oil brought to a high heat, round spices, cinnamon, rose water, chalk, calcium. Unaged and honors the noble agaves of Arandas and the Camarena "Ranchos" through intense, lively and clean flavors Made with 100% Blue Agave.
Palate – molasses, brown sugar, coffee, cacao, pink pepper, white rum, basil
Cooper's Price – $46.98 
*Tequila Ocho Reposado
Aroma: kaffir lime leaf, pine, lime zest, almond/peach kernel, creamy vanilla, green olive salinity/brine
Palate: Freshly cut grass, eucalyptus/menthol, green pear, hazelnut mid-palate moves into a burnt cacao, with caramel and toffee ending with a light spicy finish.
Cooper's Price – $49.98
Tequila Senor Artesano Reposado and Anejo
A & T Importing introduces Tequila Señor Artesano: A premium portfolio consisting of Señor Artesano Blanco, Señor Artesano Reposado and Señor Artesano Añejo.  Señor Artesano Tequilas are made from the finest 100% blue weber agave, which is grown for at least 8 years to ensure an optimal sugar content resulting in better flavor, quality and consistency. The distinctive flavors of Tequila Señor Artesano are created by slow-cooking the pristine blue agave in special ovens before extracting the sugar. Upon extraction, the juice is then fermented and carefully distilled to ensure that all aromatic and flavor properties stay intact. The liquid, excluding the Blanco is then placed into American Oak barrels for proper aging.
Señor Artesano Blanco: Clear with a platinum cast, is a delicate, sweet agave with floral, tropical fruit and lemon zest aromas and a hint of pepper. It has a soft mouthfeel and a light- to medium-bodied palate with bright agave flavor, notes of pepper, vanilla bean, pineapple and spice.
Señor Artesano Reposado: Rich and golden-hued, has a spicy aroma with a hint of caramel fudge. Its bold, round palate is medium- to full-bodied and has a rich roasted agave taste with sweet tropical fruit, vanilla and brown spices, and a long spicy finish.
Cooper's Price – $48.99
Señor Artesano Añejo: Beautifully golden in color, offers a delicate woody aroma with hints of chocolate and butter candy.
Cooper's Price – $54.99
Subscribe to stay up to date on all our tasting events.