Penya Vin de Pays Cotes Catalanes Rose
This juicy rose is a blend of 94% Grenache and 6% Syrah. Cases de Pene is a tiny village in the Roussillon region of Southern France, just 30 miles north of the Spain. Ceded to France in the mid 17th century, the area is still known as "French Catalonia". We celebrate this heritage with the Catalan spelling of the ancient Château and village Cooperative: "Penya".
Kevin's Notes: The wine displays a gorgeous salmon color. The aromatics of peach and freshly peeled pomegranate pops from the glass. The flavors quickly appeal to do you as the wine is juicy yet dry on the finish. A great pairing is; a West Coast Mexican beach while you munch on goat and pork cheek tacos with a topping of diced mango and cilantro. Made ya' hungry…. Didn't I???
In the past we have bought and sold the red and we currently sell their Viognier. These wines are great values and always taste well above their price.
Cooper's Price $12.99
Arrowood Vineyards Sonoma County Chardonnay 2014
Arrowood is 100% Sonoma. Since 1986, we have been producing high-character wines from sustainably and organically farmed vineyards west of the Mayacamas Ridge. Our winery is located in the historic Sonoma Valley, a small sub-appellation in the heart of the county. Often described as a warm pocket in a cool region
Sourced mainly from the Russian River Valley and the Sonoma Los Carneros, here's a 100% malolactic fermented Chardonnay with a softer, 4.8 grams/liter acidity.
Winery's tasting note: "Our Chardonnay has tropical aromatics with notes of citrus, crème brulee and integrated oak. It has a round, lush mouthfeel with balanced acidity and a long finish of orange peel, tangerine and toasted almond."
Regular Price $21.99
Cooper's Price $17.99
Giacomo Grimaldi Barbera d'Alba Pistin Vyd, Italy 2016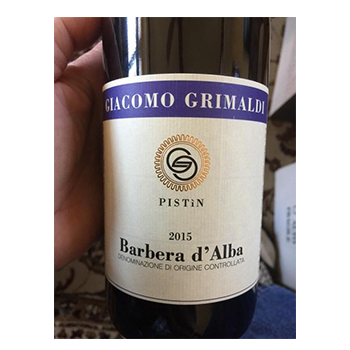 Giacomo Grimaldi, was founded in 1930 by Ernesto Grimaldi. In 1983 the winery was inherited by Giacomo, who sold the greatest part of his grapes in bulk, while keeping only a small part to be bottled for sale to a mostly local clientele. In 1996 Ferruccio Grimaldi, Giacomos son decided to continue the family wine business. Animated by a great passion, Ferruccio started to produce wines exclusively from the family's vineyards. He began acquiring vineyards of Nebbiolo in the most prestigious Barolo zones, firmly convinced of the great potential of Barolo wine.
This southwest exposed vineyard near Barolo Sotto Castello Novello is vinified in stainless steel fermentation tanks and then aged in stainless steel for 8 months. The wine saw a long maceration (skins soaking with juice) period of 10-12 days.
Kevin's Notes: In March, we went to Aspen to taste 100+ different Barolo's, Barbaresco's, Dolcetto's and Barbera's and Grimaldi blew us all away. We committed to 5csaes of each; Pistin Barbera, Dolcetto d'Alba, and his Sauvignon Blanc. He was the one of the stars of the tasting and now you're going all of them over the next 30 days starting with Pistin Barbera d'Alba. This vineyard is unique and special due its very close proximity to Barolo.
This is a full bodied Barbera with stunning personality like myself.
Cooper's Price $19.99
Cortijo Rioja, Spain 2015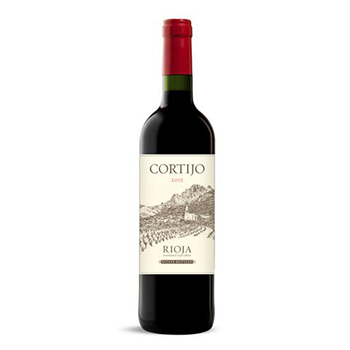 Cortijo means 'cottage' or 'shack,' a reference to the fact that shacks, often times, make better wine than most high-flown Chateaux in Rioja. The Philosophy of Cortijo is very simple yet very effective: to make better wine, you need to harvest better grapes. Cortijo improves the quality of its wines by doing a better job in the vineyards. Rather than building a chateau or a beautiful tasting room, Cortijo pays to take care of the only meaningful ingredient, the grapes.
Beginning with the 2009 vintage, Cortijo is made with estate-owned grapes. The goal with Cortijo is to show a pure, youthful expression of Rioja Alta. Cortijo is a sort of "non-profit organization". It is very difficult to find such a pure expression of Rioja at this price point.
Rioja is Spain's most prestigious wine region and for younger or neophyte wine drinkers who want to learn more about this magical, storybook wine region, its grapes and its wines, there's no better introduction than Cortijo Tinto.
Regular $14.99
Cooper's Price $12.99